Coupons.com: Million dollar domain operators file to register the matching trademark
Global Savings Group GmbH is a privately held international commerce content and affiliate marketing company, that combines multiple savings portals in over 20 countries. The company owns CupoNation as well as further discount code and deal sites across Europe, and operates coupon portals for publishing houses.
One of the company's assets is the mega-domain Coupons.com. The company, via its CupoNation GmbH subsidiary in Germany, has filed an application to register the mark COUPONS.COM with the USPTO.
The intent to use application was filed for the following products/services:
Advertising services; advertising and promotion services, namely, arranging, generating and distributing digital offers, advertisements and promotions of others
Blogs relating to digital promotions, digital offers and advertisements of others, coupon codes, card linked offers, loyalty coupons, and local offers; online digital newsletters relating to digital offers and promotions
Providing online, non-downloadable software for use in displaying and printing digital offers, advertisements and promotions of others, coupon codes, card linked offers, loyalty coupons, and local offers
The color(s) blue, orange, red, black is/are claimed as a feature of the mark. The mark consists of the stylized black wording COUPONS.COM; above this appears a design comprising three irregular overlapping vertically oriented rectangles; the leftmost being blue, the center one being orange, and the rightmost being red.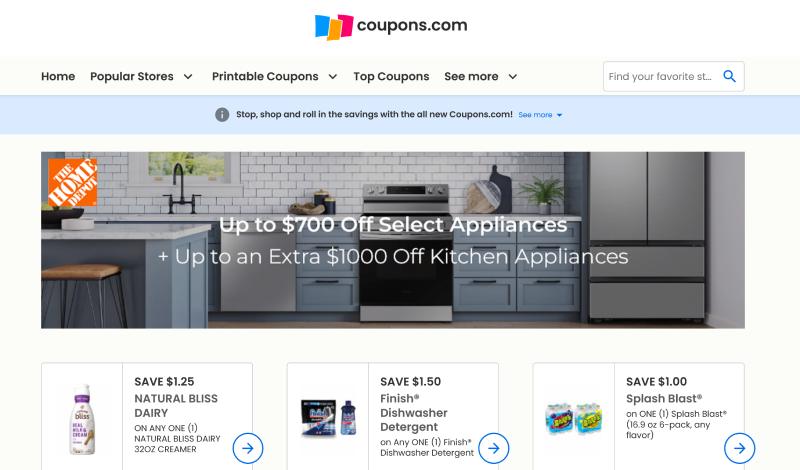 The domain name Coupons.com was reported as sold for $2,200,000 dollars in 2000, according to NameBio. The current operators of Coupons.com are not related to the domain's buyer at that time.
Applying for the registration of matching marks is an ongoing trend among owners of generic domain names, following the decision by SCOTUS on the Booking.com trademark application.
Since then, dozens of generic domain names have been applied to be registered as trademarks, inclusive of the TLD.
As of January 5th, 2021, BOOKING.COM is a registered trademark with the USPTO.
Will these applications become the new norm? Watch this video from NamesCon Online 2020.
Copyright © 2023 DomainGang.com · All Rights Reserved.