Nuts.com owners file for the mark's registration at the USPTO
Nuts.com, Inc., operators of the aged, premium, and totally crunchy domain name, Nuts.com, have filed for the mark's registration with the USPTO.
The application to register NUTS.COM incorporates graphic elements:
The mark consists of the wording NUTS.COM in a font resembling handwritten printing with a horizontal line below the wording. Beneath the horizontal line are four figures depicting anthropomorphic representations of nuts and seeds. The two figures on the far left and far right have mustaches, the second figure from the left has several strands of hair sticking up from its head, and the second figure from the right is wearing a baseball cap with a capital letter "N" on the front.
The mark was applied for with an intent to use clause, for the following products:
Jerky; Cheese-based snack foods; Dried fruits; Fruit chips; Processed edible seeds, not being seasonings or flavorings; Snack mix consisting primarily of processed fruits, processed nuts and/or raisins; Trail mix consisting primarily of processed nuts, seeds, dried fruit and also including chocolate; Vegetable chips; Beef jerky; Blanched nuts; Candied nuts; Chopped nuts; Flavored nuts; Pork jerky; Prepared nuts; Processed sunflower seeds; Roasted nuts; Seasoned nuts; Shelled nuts
Crackers; Popcorn; Pretzels; Chocolate-coated nuts; Sesame sticks; Glazed popcorn; Rice crackers; Seasoned popcorn
Fresh nuts; Raw nuts; Unprocessed nuts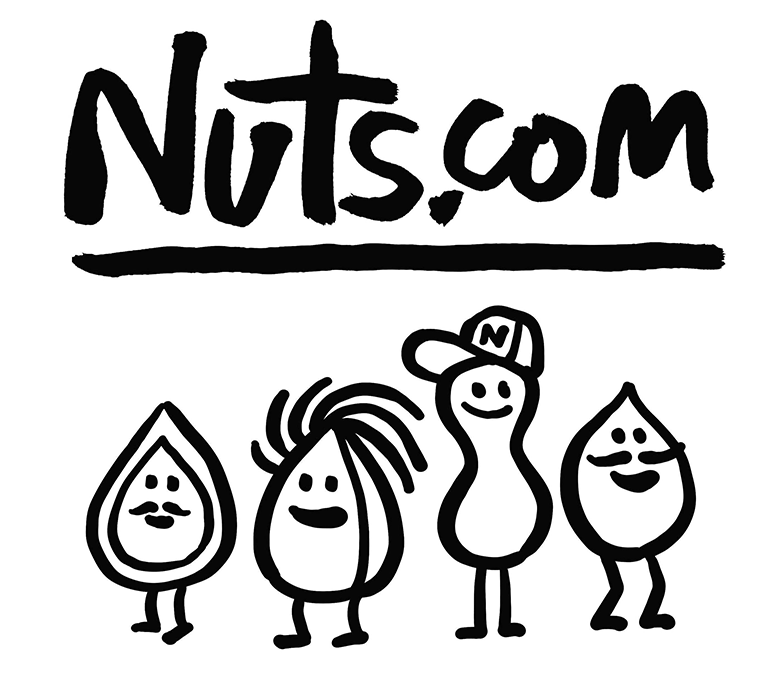 A brief history of the business behind Nuts.com:
Over 90 years ago, our beloved grandfather Poppy Sol started this business in the open-air market on Mulberry street. Three generations later, our online store offers you the same personal service Poppy Sol did back then, and we're still bringing smiles to our customers' faces.
It seems that the mark's registration application is due to a rebranding; the domain was registered in 1997. It's quite possible that the domain was acquired by the operators of NutsOnline.com sometime in 2011. There's also PECANS.COM in a separate application! 😀
It's an ongoing trend among owners of generic domain names, following the decision by SCOTUS on the Booking.com trademark application.
Since then, dozens of generic domain names have been applied to be registered as trademarks, inclusive of the TLD.
As of January 5th, 2021, BOOKING.COM is a registered trademark with the USPTO.
Will these applications become the new norm? Watch this video from NamesCon Online 2020.

Copyright © 2022 DomainGang.com · All Rights Reserved.