Stressballs.com: $20k sale led to rebranding, new trademark application
Bluetrack, Inc., operators of Stressballs.com, have filed for the registration of the matching trademark, STRESSBALLS.COM.
The mark was applied for the following products and services:
Custom imprinting of keychains, yoyos, foam objects, squisable objects, mugs; Customized printing of company names and logos for promotional and advertising purposes on the goods of others; Design printing for others; Sculpting of figurines to the order and/or specification of others
Based in New Jersey, Bluetrack lists December 31, 2009 as the date of first use of the mark. Previously operating from the domain Bluetrack.com, the company rebranded as Stressballs.com sometime in 2018, per the Internet Wayback Machine. The current business focus of Bluetrack began in 2002, after the tragic events of September 11, 2001.
Domain WHOIS records indicate a change in ownership for Stressballs.com that took place in early September 2008, in a transaction that utilized Moniker escrow; NameBio lists the sale at $20,000 dollars. The domain itself was registered in 1996.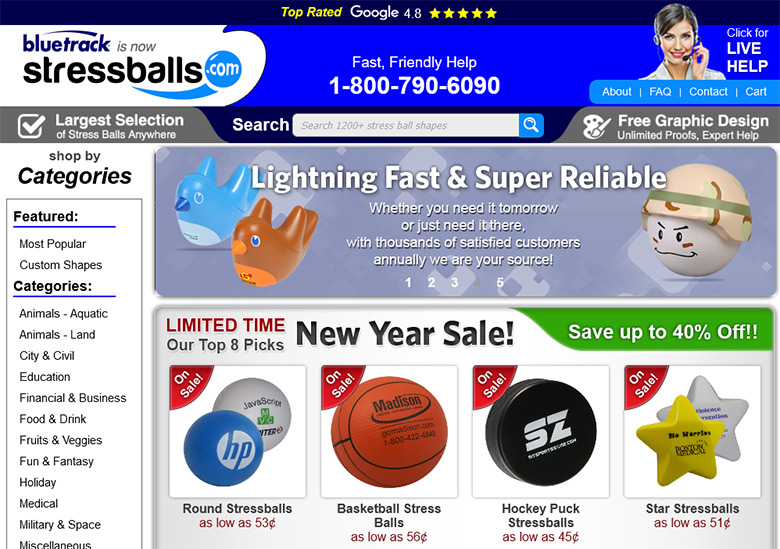 Why was STRESSBALLS.COM applied for as a trademark at the USPTO?
It's an ongoing trend among owners of generic domain names, following the decision by SCOTUS on the Booking.com trademark application.
Since then, dozens of generic domain names have been applied to be registered as trademarks, inclusive of the TLD. We report on these applications, and so far several have been decided upon.
As of January 5th, 2021, BOOKING.COM is a registered trademark with the USPTO.
Will these applications become the new norm? Watch this video from NamesCon Online 2020.

Copyright © 2022 DomainGang.com · All Rights Reserved.