Acquire.com: Elon Musk wants more for the account than the domain's cost!
In October of last year, MicroAcquire CEO Andrew Gazdecki announced his company's acquisition of the domain name Acquire.com.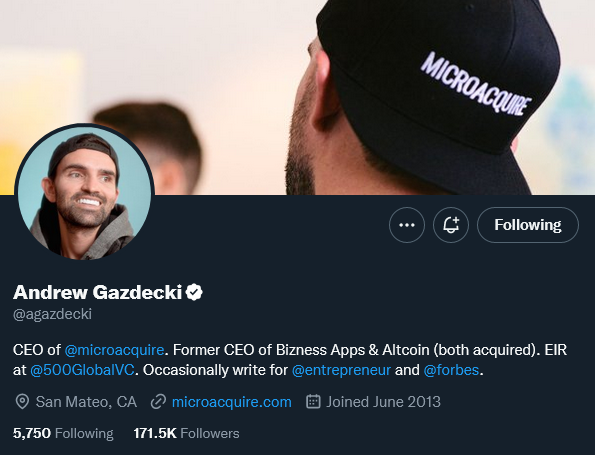 In true Gazdecki style, this exciting news was broken with a twist; the domain's acquisition price was Tweeted as being $2,000,000 dollars. That number, was soon changed to the real figure: $200,000 dollars.
It was a slight case of a dick move, we thought at the time, but the truth is that Mr. Gazdecki was simply super happy to have spent $200k for the domain Acquire.com. His company had also filed for the registration of the matching mark soon after the acquisition took place.
Since a year ago, Andrew Gazdecki has also been asking, nicely, to acquire the dormant, matching Twitter (X) handle @acquire, by making several public statements and pleas to Elon Musk.
It's now been a year later and the news is out: Elon Musk's X Twitter 2.0 wants $250,000 dollars in order to release the account @acquire to them.
That's right: Elon Musk wants to sell the Twitter/X handle for more money than it took Acquire to buy the domain name Acquire.com! LOL
Now that's what we call a real dick move, Elon Musk. Andrew Gazdecki was more gracious in his response to the news:
Since the news is out the cost to free @acquire for the love of startups is $250,000 (more than the domain).

Unfortunately we're happy with @acquiredotcom for $0.00.

We had a blast chasing that handle because the answer is always no unless you ask! Congrats to the future owner! pic.twitter.com/cNsWFFxB8m

— Andrew Gazdecki (@agazdecki) November 4, 2023
It's really unfortunate that Elon Musk's model of monetizing expired or dormant accounts deprives the use of the matching handle @acquire by the company that deserves it the most.
Copyright © 2023 DomainGang.com · All Rights Reserved.
Comments
2 Responses to "Acquire.com: Elon Musk wants more for the account than the domain's cost!"