Domain sightings: Amazon but not the Jeff Bezos company!
What if you came across a domain name "in the wild" that uses a popular brand, such as Amazon?
We did.
But no, this is not the Jeff Bezos company, the almighty Amazon—it's the Amazon Hose & Rubber Company.
As seen in this photo below, the domain name is AmazonHose.com and it was registered in 1998. According to their web site:
Rubber hoses made back in the early 1900s were comprised of pure gum rubber tapped from the Amazonian trees, which often grow more than 100 feet high. The original source for most of this quality gum rubber was the Amazon River Basin of South America from which Amazon Hose & Rubber Founder Harry E. Jacoby adopted the name "Amazon."

In 1981, Amazon Hose & Rubber opened its Orlando location serving the growing Central Florida area with walk-in service. Each location maintains a comprehensive stock of hoses, tubing, fittings and couplings for industrial and hydraulic applications.
That's right, this domain sighting makes it clear that Amazon and Jeff Bezos don't have exclusive rights to the "Amazon" brand.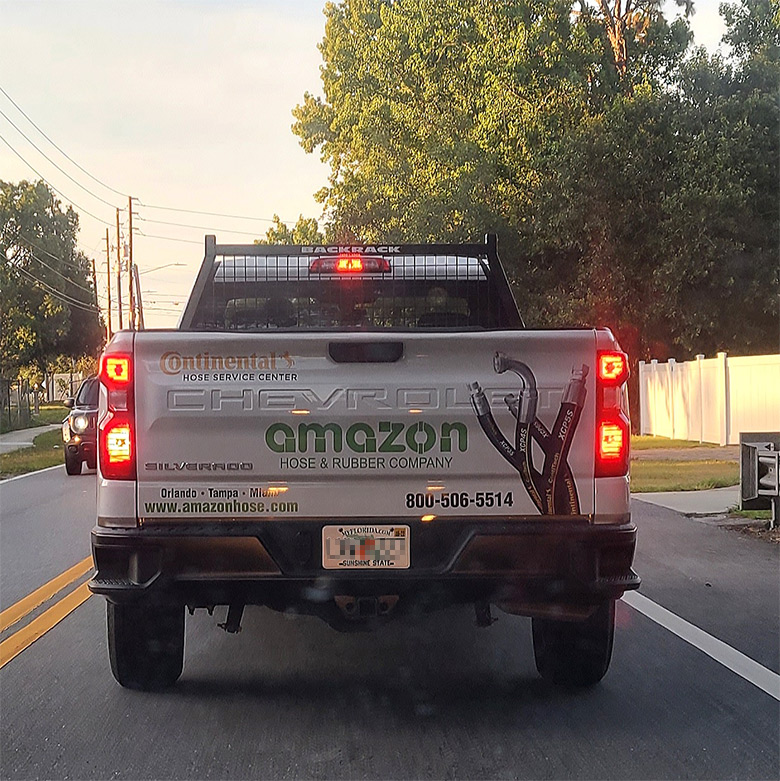 What's a "domain sighting," you may ask.
It's when we encounter domain names in the real world, that appear on vehicle wraps and signs, billboards and business signs, and product wrapping. For convenience, we group them into .com domain sightings, and other ccTLDs, gTLDs and TLDs.
Copyright © 2023 DomainGang.com · All Rights Reserved.