#Domain XBT.com on a 200 #Bitcoin auction, offered by XBT Holding SA
The domain XBT.com is being auctioned off by XBT Holding SA, a privately held web-hosting and data-storage firm based in Luxembourg, and they want 200 BTC for it.
That's approximately $2.7 million dollars, at the time of this conversion. Bitcoin price can fluctuate as much as 20% or more, on a given day.
In 2014, XBT Holding SA acquired the domain Datacenter.com, for $500,000 dollars.
According to Bloomberg, the company is linked to the hacking of the U.S. Democratic Party in a disputed dossier about Donald Trump:
The dossier, compiled by research firm Fusion GPS, contained what BuzzFeed described as unverified allegations. Among them were that XBT and its subsidiary Webzilla carried out cyberattacks against the Democratic Party by transmitting viruses and stealing data. The firm's former chief executive officer, Aleksej Gubarev, played a key role in the operation and was recruited under duress by Russia's Federal Security Service, the dossier alleged.
XBT and its CEO have denied the allegations, and are suing BuzzFeed and its editor-in-chief, Ben Smith, in federal court in Florida for defamation.
XBT Holding SA has owned the domain XBT.com since 2010, at a time that Bitcoin was worth just pennies.
Acquiring the domain XBT.com could be a valuable asset for a cryptocurrency firm, and it would provide XBT with some extra cash, according to the company.
As shared by Bloomberg:
"This domain has way more value in the hands of someone in the cryptocurrency business," Gubarev said in emailed remarks provided by his lawyer, Val Gurvits. "Also, the brand name of XBT has severely suffered due to the false allegations in the dossier, and we are considering re-branding as the result of the reputational damage."
The auction for XBT.com began on January 5 and to join, just head over to XBT.com.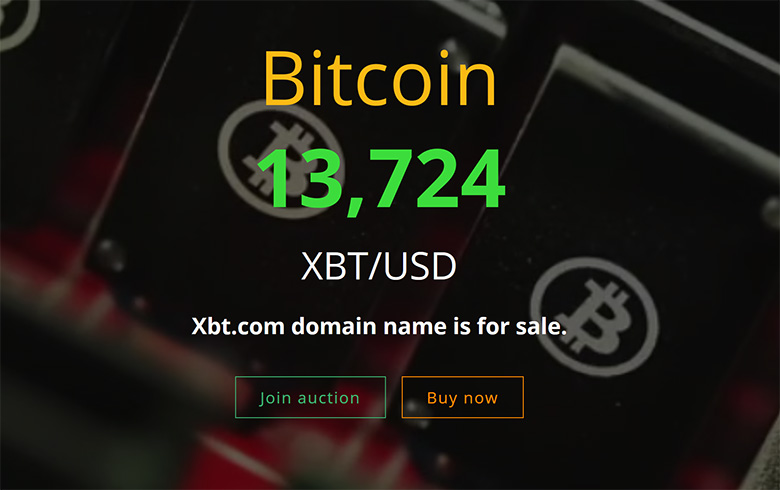 Copyright © 2020 DomainGang.com · All Rights Reserved.