#GoDaddy: Alarming number of #domain theft attempts
GoDaddy is the biggest domain registrar in the world, with more than 80 million domain names under management.
It makes sense that it's therefore the most targeted domain registrar by cybercriminals, due to the sheer volume of domains.
For domain portfolio holders at GoDaddy, a type of upgraded protection is available. The message displayed under the Domain Management section displays an alarming number on attempted domain thefts: 170,000 times per year:
That's how often criminals attempt to steal domains. Your domain name is your most valuable online asset and needs protection.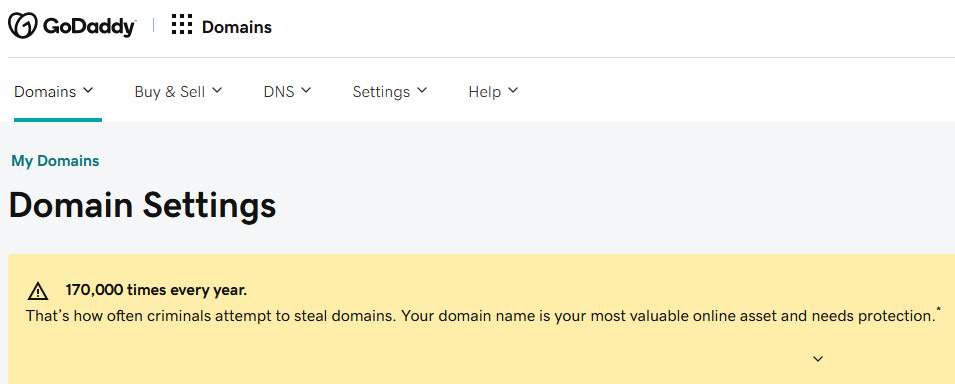 It's unclear if the number claimed reflects attempts at GoDaddy alone, or industry-wide; either way, the number is staggering. Using GoDaddy's numbers, that's 1 in 470 domain names.
The figure seems about right. If you have 400+ names, you've probably had some sort of security issue, whether it's too many failed login attempts, a DDoS attack forcing you offline, or even a theft attempt using social engineering techniques.
Never underestimate the tools of a domain thief and use this GoDaddy statistic as a reminder that you can never be too secure with your domains.
Kudos: Dale G.

Copyright © 2022 DomainGang.com · All Rights Reserved.
Comments
2 Responses to "#GoDaddy: Alarming number of #domain theft attempts"