Marketplace unplug: DAN ends its relationship with SAV
Domain marketplace DAN.com, has announced the immediate termination of its relationship with SAV.com, a domain marketplace and registrar.
Users of DAN with domains registered at SAV received the following message:
Dear Dan Users,

Important heads-up for Dan users that have domains registered at Sav.com.

As you know we work with all parties in the market and we're a partnership first company.

However, as of today we will fully stop working with Sav.com and do not support any domain transactions at Dan.com or our network for domains managed at Sav.com.

All current transactions will be processed but no new transactions for domains managed atthis registrar will be supported anymore.

We cannot share the exact reason behind our decision at this point and we understand thiscan cause issues for some of our sellers.

We're sorry about the inconvenience this causes for you.

Kind regards,
Dan
We have reached out to SAV seeking their feedback.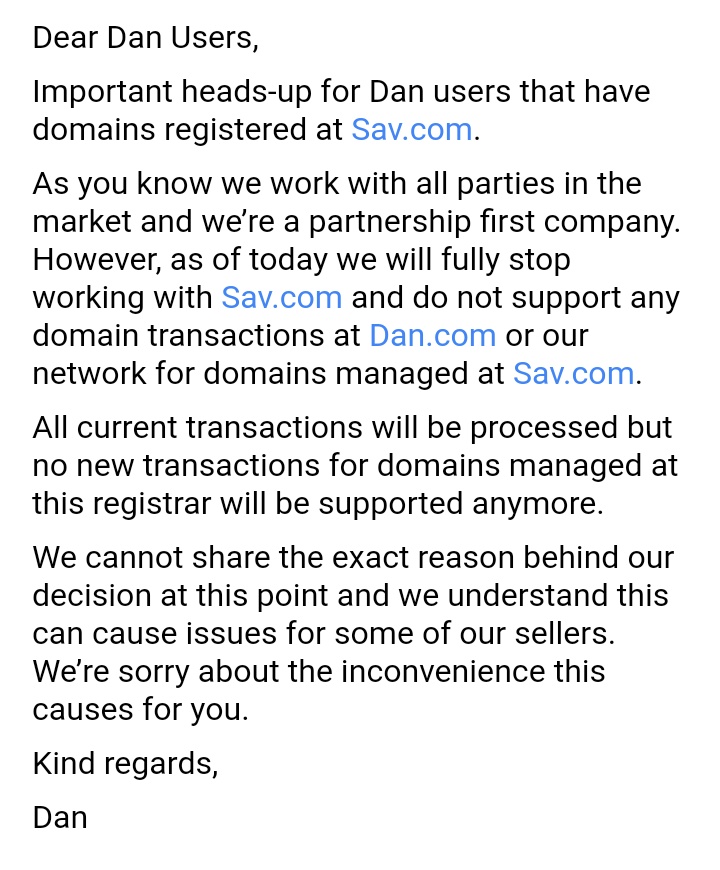 Copyright © 2022 DomainGang.com · All Rights Reserved.
Comments
3 Responses to "Marketplace unplug: DAN ends its relationship with SAV"