#MrLowballer : How a domain lowballer inquires about a #domain clearly not for sale!
There's ball-busting domain n00b in the industry that totally BUSTS THE BALLS of domain owners!
He always emails owners of awesome, dictionary word, premium domains – with the intention to flip them quickly. This SOB offers $100 bucks in a pathetic attempt to make big bucks: $10,000, $20,000 and even more than $40,000 by spamming the email accounts of other investors.
I say, fuck that guy!
He fakes it. He has no cash in hand. And he often uses a female name like "Tiffany Smith" or "Samantha Foxer."
Recently, I received an email from him about a domain name I own. That fucker could not tell I own it, because of the GDPR requirements that fucked up WHOIS for everyone.
My balls turned blue from the the fucking domain spam!
I'm sure you want to see how Mr. Lowballer – that fucking guy – inquires to purchase a premium domain name?
Do you want to see how he sends so much spam out every day, in a pathetic attempt to flip the domains?
No need to send me your email address, I'm not fucking with you. Here's the EXACT EMAIL that Mr. Lowballer sends out – that fucking guy!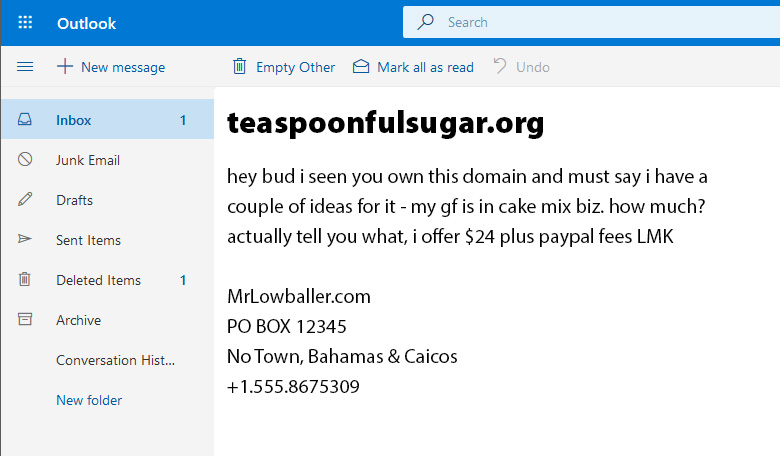 Here's what lowballers should be treated like, watch the video below. If Mr. Lowballer contacts you with a domain offer, FUCK THAT GUY!

Copyright © 2022 DomainGang.com · All Rights Reserved.
Comments
One Response to "#MrLowballer : How a domain lowballer inquires about a #domain clearly not for sale!"