N-FT.com: Domain auction scores highest L-LL .com sale ever
The domain auction for N-FT.com closed earlier today on DropCatch, achieving what appears to be the highest sale of a L-LL .com ever.
Consisting of a letter, a dash, and two letters, N-FT.com sold for $32,460 dollars. That's thirty grand and some change.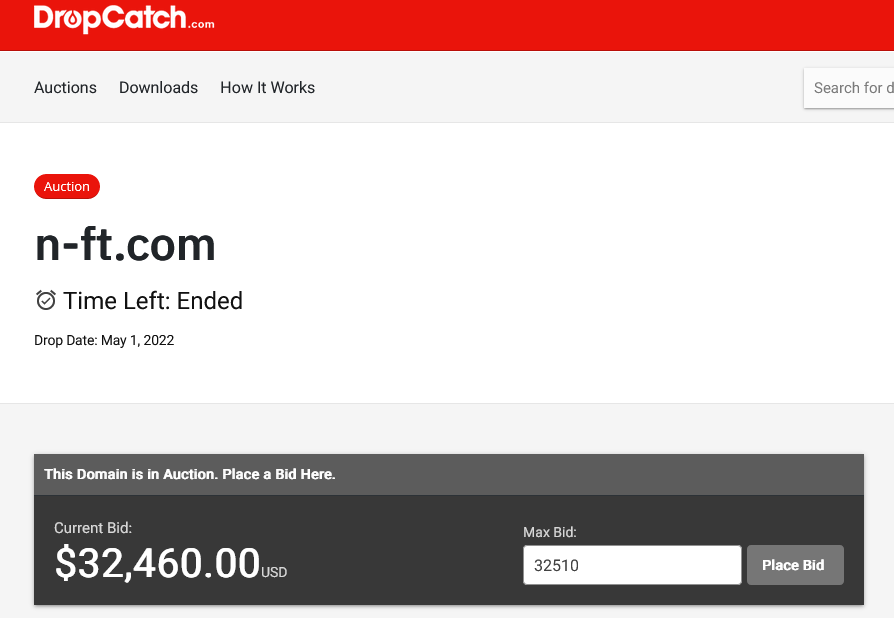 Visually, if one were to remove the dash, N-FT.com spells out NFT, the ever-popular non-fungible tokens. And since "non-fungible" uses a dash, N-FT.com is fully representative of its much longer spelling.
What's amazing is that the domain was registered, dropped, and re-registered several times in the past. Some of its past owners held it for just one year without renewing it. N-FT.com was never used as an active web site providing services. The oldest registration recorded dates back to October 2006.
Although we followed the auction, we missed its ending, so the winner is either InsaneDomains or First1 on DropCatch. The latter is a Chinese consortium of bidders that carries on bidding on Ename.
Here are the top ten sales of L-LL .com domains as recorded by NameBio:
| | |
| --- | --- |
| n-ft.com | $32460 |
| m-hk.com | $17999 |
| f-in.com | $5000 |
| g-in.com | $4880 |
| c-go.com | $4750 |
| c-si.com | $4688 |
| d-no.com | $4600 |
| d-go.com | $4288 |
| x-in.com | $4090 |
Would you register a L-LL.com domain?
Copyright © 2023 DomainGang.com · All Rights Reserved.