#NetSol upselling beats GoDaddy, says security expert
Network Solutions gets the prize when it comes down to upselling services related to domain names, beating GoDaddy in this unpopular contest.
That's the conclusion of security expert, Mark Jeftovic, who describes his adventure after attempting to acquire a domain in the aftermarket.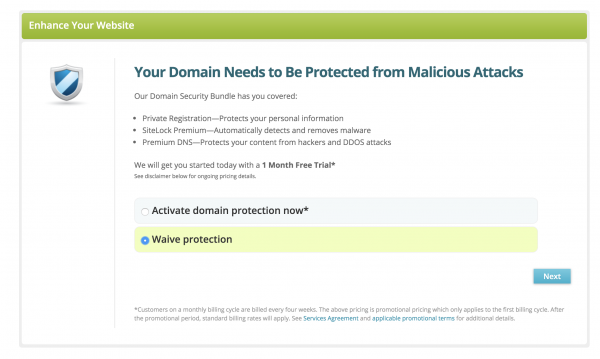 The domain was being sold by Network Solutions, and selecting the domain alone wasn't an option; Mark had to wade through pages of add-on services, often described with "free" or "great discount" language.
At the end of the process, NetSol had tacked no fewer than four add-on services to his domain acquisition, without providing individual pricing for them – until the very final step of the process, where the $300 dollars bill was disclosed.
You can read Mark's coverage of his experience, with assorted f-bombs here; it's fun and eye-opening. 😀

Copyright © 2021 DomainGang.com · All Rights Reserved.