Plomero.com: Sedo sale encountered as "domain sighting"
El Plomero Latino is a full service plumping company located in Orlando, Florida. They operate from the domain name ElPlomeroLatino.com.
According to their web site:
El Plomero Latino Inc. is a full-service, family-owned and operated plumbing company based in Orlando, FL. We were Founded in 2011 by David Sierra and are dedicated to providing top-notch quality residential and commercial plumbing services in Orange County, Osceola County and Seminole County, FL. We currently have 5 employees and our vision is to have multiple locations and franchises throughout the nation. 
It sounds like a very small company but they also own the domain name Plomero.com which means "plumber" in Spanish. As seen in this domain sighting below, the domain appears on one of their utility vans.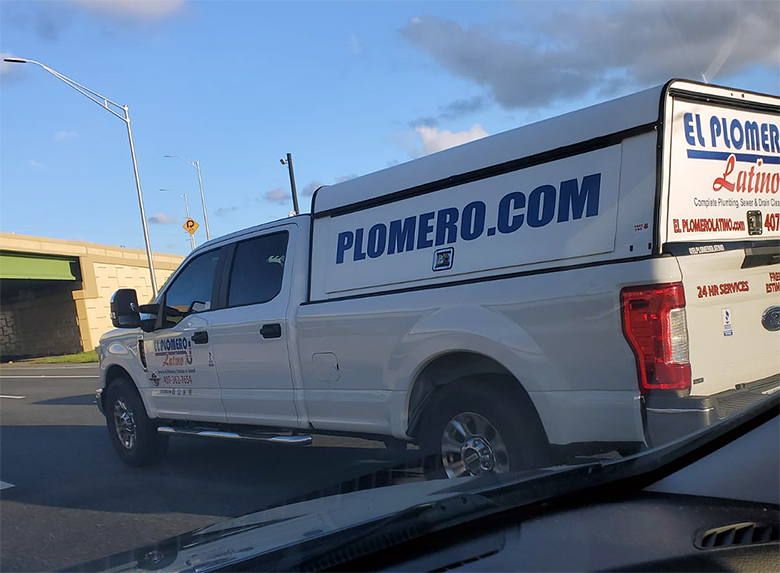 Registered in 1999, the domain Plomero.com was acquired from Sedo in 2019, for the sum of $5,980 dollars. Source: NameBio.
As an added bonus, El Plomero Latino also owns ElPlomero.com. Now that's what we call great brand planning! 😀
What's a "domain sighting," you may ask.
It's when we encounter domain names in the real world, that appear on vehicle wraps and signs, billboards and business signs, and product wrapping. For convenience, we group them into .com domain sightings, and other ccTLDs, gTLDs and TLDs.

Copyright © 2021 DomainGang.com · All Rights Reserved.