Rob Monster off Twitter after #Christchurch massacre controversy
The mosque massacre in Christchurch cost the lives of many innocent people, caused by a heinous murderer promoting nazi ideology.
In the middle of this terrible human loss, a domain registrar's founder took a stance separate from his company's past support of right-wing agenda, in the name of "freedom of speech."
In a Twitter exchange, Epik founder, Rob Monster, "mixed business with politics," related to the ideology of the group inflicting the Christchurch massacre.
Monster was criticized for picking and choosing "freedom of speech" incidents, as Epik apparently did not welcome to host such extremist content domains.
Currently, Rob Monster's Twitter account appears to have been disabled or even deleted. When visiting Twitter.com/robmonster a message from Twitter notifies visitors that the page does not exist. All of Rob Monster's tweets are thus unavailable, including the one below: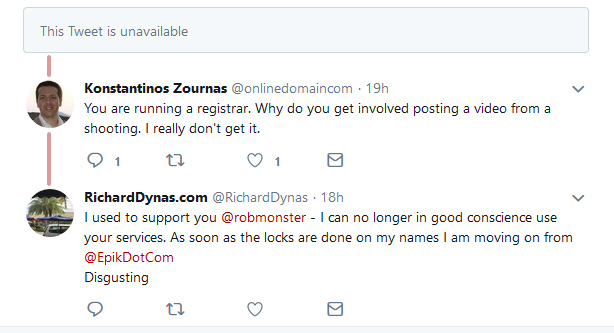 It is not clear what exactly is going on and why Rob Monster's Twitter account is inactive. An active exchange on the Epik Twitter account might help shedding some light.

Copyright © 2021 DomainGang.com · All Rights Reserved.
Comments
3 Responses to "Rob Monster off Twitter after #Christchurch massacre controversy"