Vomit.com : How a photographer's #domain was thrown up at #GoDaddy auctions
Michael Holden is a professional photographer from Seattle, Washington and was the registrant of the domain Vomit.com for more than 20 years—until a series of unfortunate events removed the domain from his GoDaddy account.
As a photographer, Mr. Holden has covered the Burning Man event extensively, and he often covers public events in Los Angeles.
This is Mr. Michael Holden's testimony below, with added information from our independent investigation.
In September 2019, circumstances—including being in a tornado that destroyed my cameras—conspire to leave me virtually bankrupt and nigh homeless. In early October 2019, my domain name Vomit.com expires.

On November 1, 2019, I realize what's going on, I have an online chat with Godaddy support, and they tell me that I have until November 6th to pay the registration fee and an $80 dollar fee to re-acquire the domain.  The GoDaddy support guy is adamant that I will have until November 6th to pay the fees. He is so certain that I didn't make screen grabs of the chat. During this chat I am able to put the Vomit.com renewal and late fee into a shopping cart after the support guy did something in the back end, not sure what though.

On November 5, 2019 a client check clears, I log back into the Godaddy admin interface to complete my transaction. The renewal is not in my cart. No options to renew are visible on the site. I call support and eventually am put through to a guy named John who listens as I explained everything. He said he would look into it but it didn't appear that I would be able to get the domain back unless I bought it at auction. Oddly he says that the chat transcript where I was advised that I would be able to renew up until the 6th was not part of the record.

On November 6, 2019 John mails back, offers a very different narrative, basically says I am out of luck:

A bid was made for the domain on October 30th 2019 at exactly 7:37pm CST that makes this domain non-restorable during your initial contact on November 2nd 2019. We understand this is likely not the outcome you were hoping for, though I hope this provides some understanding of why we are unable to recover the domain name for you.

My response in part:

If this is the case, then why was I  able to add the expired domain as to my cart in the course of my interaction with the customer service person?  If, as you say, I would not of been able to recover the domain when I called, then I should not of been able to put it in my shopping cart, correct? 

I freely admit that I am sadly responsible for getting the domain into the state that it was in for a variety of personal reasons. I own that. That is not your problem. The issue is that Go Daddy made a mistake in relaying information to me that was critical to maintaining ownership, and in my opinion needs to rectify the situation one way or another.

On November 7 I called customer support, nobody knew anything except that it wasn't under my control anymore.

I had this domain for 20+ years, and have been a GoDaddy customer for 15 or more years.

The whole thing makes me sad. I am responsible for letting it expire, but GoDaddy contributed to this situation by giving me bad information and then not standing behind, or even acknowledging, what their support person told me.
Our investigation concludes that Vomit.com was auctioned off at GoDaddy auctions, with a winning bid of $8,700 dollars on November 9, 2019.
However, that auction was never paid for and the domain was repossessed by GoDaddy. This is shown at the WHOIS information below, courtesy of DomainTools: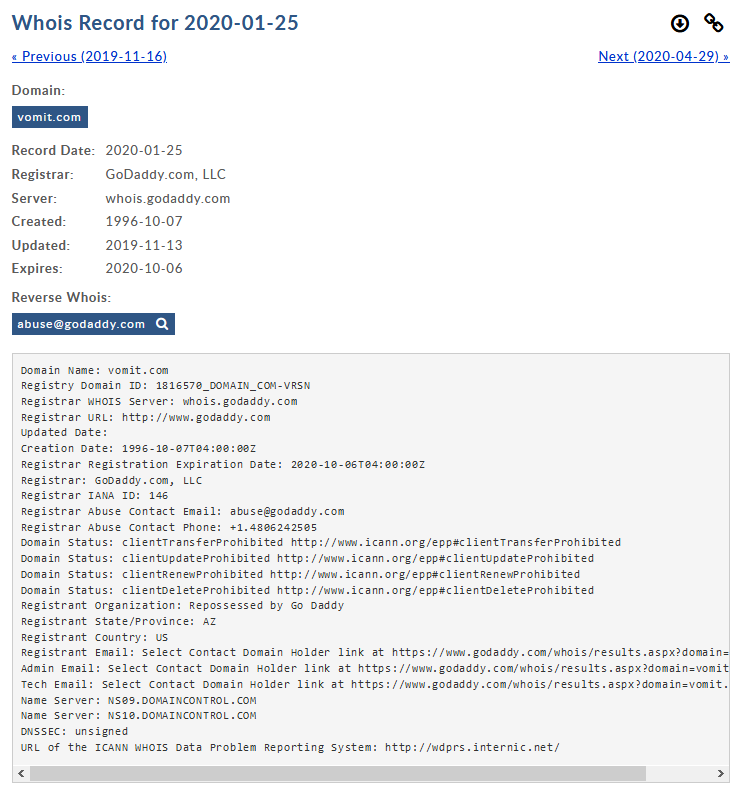 This WHOIS capture indicates that two months later, the domain was back in the possession of GoDaddy due to a failed payment for the November 9, 2019 auction.
A year passed by and the domain came up for renewal in 2020; as an expired domain in the possession of GoDaddy, it was sent to auctions, making it visible to domain investors to peruse and bid on.
We researched Vomit.com and wrote an article on its status, wondering what ensued. After getting in touch with Michael Holden, the back story came out and it's worth sharing.
Vomit.com was auctioned off at GoDaddy auctions a year to the day of the first one, ending at $7,066 dollars per NameBio. The first auction's result has yet to be invalidated.

Copyright © 2021 DomainGang.com · All Rights Reserved.