Cake.com trademark registration application follows domain acquisition
Switzerland based CAKE.com AG, operators of the ultra premium domain name Cake.com, have filed for the registration of the matching mark, CAKE.COM.
The mark consists of standard characters, without claim to any particular font style, size, or color. The mark's application was filed, in part, for the following products/services:
Recorded and downloadable media; computer software; downloadable mobile application featuring software for use in secure group communication and collaboration, namely, posting, file sharing, instant messaging, direct messaging, calendar synchronization and automatic integrations with external service providers between and among individuals and groups within the same businesses and organizations and from different businesses and organizations; downloadable computer application software for database management in the field of employee, office, team, organization, and project profiles and information.
Business management; business administration; personnel management in the nature of providing online employee and contractor time tracking services for others; personnel and business project management in the nature of providing online employee and contractor services for tracking time, tasks, expenses, costs activity, attendance, productivity and projects for others.
Registered in 1995, the domain name Cake.com appears to have been sold in January 2023; in March, acquiring company COING announced their rebranding to CAKE.com.
The seller of Cake.com appears to be NewReach, holders of a strong portfolio of short, generic domain names.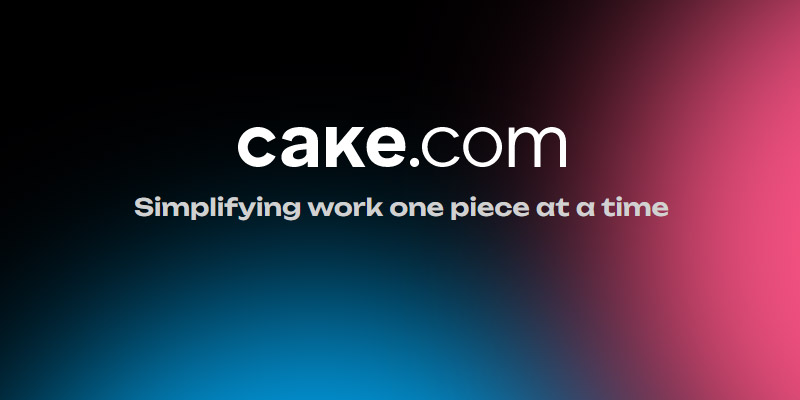 Domain rebranding from COING to CAKE sounds like a great idea. The company's most successful products include Clockify (time tracking app), Pumble (team communication app) and Plaky (project management app) – and all together they form the CAKE.com suite designed to increase team productivity.
Applying for the registration of matching marks is an ongoing trend among owners of generic domain names, following the decision by SCOTUS on the Booking.com trademark application.
Since then, dozens of generic domain names have been applied to be registered as trademarks, inclusive of the TLD.
As of January 5th, 2021, BOOKING.COM is a registered trademark with the USPTO.
Will these applications become the new norm? Watch this video from NamesCon Online 2020.
Copyright © 2023 DomainGang.com · All Rights Reserved.