RVS.com: Domain owner filed for #trademark registration at the USPTO
The operators of the domain RVS.com filed for the registration of the matching trademark, RVS.COM, at the USPTO. The company applied for the registration of the RV.COM mark in September 2020. That mark is currently suspended.
The "intent to use" application is for the following services:
Retail and on-line retail store services featuring recreational vehicles, recreational vehicle equipment, recreational vehicle accessories, recreational vehicle parts, recreational vehicle supplies, electronics, marine electronics, boats, marine and boating equipment, supplies and accessories, bicycles, cycling equipment, supplies and accessories, watersports equipment and accessories, kayaks and accessories, paddleboards and accessories, camping equipment, supplies and accessories, outdoor sports and recreational equipment, supplies and accessories, powersports equipment, supplies and accessories; Administering discount group purchasing programs, namely, negotiating contracts with providers of banking and insurance services, to enable customers to obtain discounts on the purchase of financial and insurance services of others;
Registered in 1997, RVS.com displays a coming soon landing page that shares the same social media accounts as RV.com. The message "RVs.com – Meet the future of RV buying" appears on the web site. There are no records of the domain having sold at NameBio.
Why was RVS.COM applied for as a trademark at the USPTO?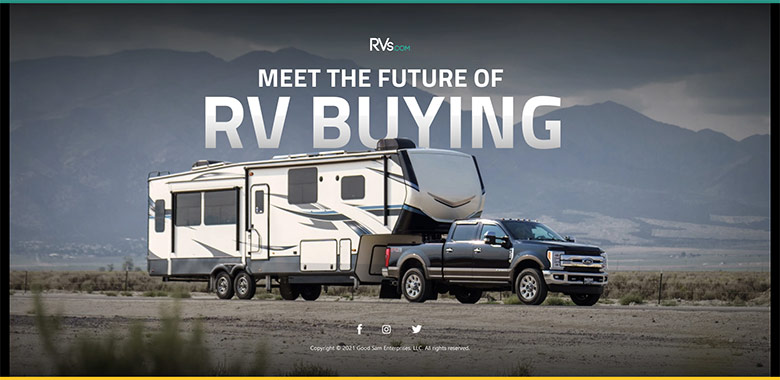 It's an ongoing trend among owners of generic domain names, following the decision by SCOTUS on the Booking.com trademark application.
Since then, dozens of generic domain names have been applied to be registered as trademarks, inclusive of the TLD. We keep track of these applications, and so far none has been decided upon.
As of January 5th, 2021, BOOKING.COM is a registered trademark with the USPTO.
Will these applications become the new norm? Watch this video from NamesCon Online 2020.
Copyright © 2023 DomainGang.com · All Rights Reserved.