gTLD #domains : Dot .Boston surpasses dot .Africa
A few weeks ago, we noted the irregular climb of dot .Boston, after several strategic acquisitions by Epik sent .Boston soaring.
In mid-December, registrations for dot .Boston crossed 20,000 domains, with a single day jump of 10,000 domain names.
With this big leap in registrations, most of which appear to have ended up at Epik once again, .Boston surpassed .Africa, a geographical gTLD that represents an entire continent!
Dot .Africa has "only" 12,223 domains currently, with .Boston at 21,124.
The .Boston registration chart below, displays the step-up pattern of its ascending numbers, after several rounds of Epik registrations.
We are not sure which domains Epik registered, but they are most likely related to its geodomain strategy.
Epik now controls 80.45% of all .Boston domains; GoDaddy, the biggest domain registrar in the world, is second with 5.6% and 1,182 .Boston domains. EnCirca is third, with 704 .Boston domains and 3.33% in gTLD share.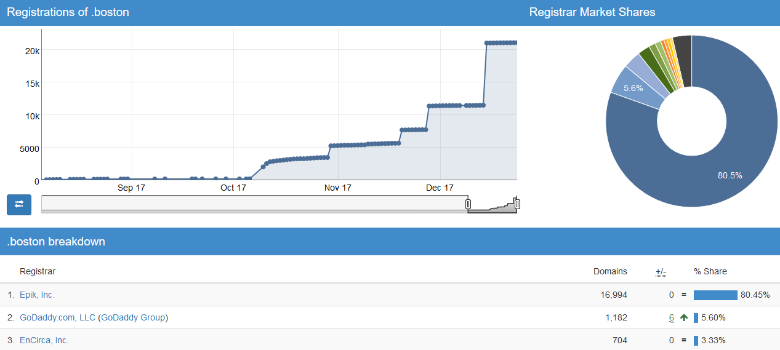 Copyright © 2020 DomainGang.com · All Rights Reserved.