#TopToken .com : Cryptocurrency #domain auction jumps in final minutes at #DropCatch
Many public auctions at DropCatch get really busy in the final minutes, as in the case of TopToken.com .
The seemingly cryptocurrency-related domain name auction attracted several bidders, and intense bidding that extended the auction in 5 minute increments for several hours.
Eventually, the auction ended and the domain was sold for $3,852 dollars.
A total of 32 bidders placed 123 bids, with DropCatch account "dcnbus" being the winner of the auction. He battled it out with DropCatch user "DefendOr6."
TopToken.com was originally registered in 2002, by a Spanish registrant. It seems that it was not used recently, as this 2017 "under construction" page shows. In 2011, it was an active web site for the exchange of personal items:
"Do you want to give or give? In Toptoken you can do both. If you want to give away we have the most innovative textile (Kukuxumusu, Moulin Roty, Tuc Tuc) and all kinds of gift objects. And if you prefer to give away, we customize, as you want, the object that you want. You ask us, we do it."
In recent years, the increased popularity of crypto domains has drawn attention to domain investors savvy with the cryptocurrency and blockchain markets. Many domains that contain "token" or "tokens" are nowadays linked to crypto.
Congratulations to the new owner of TopToken.com and to DropCatch for making a good chunk of cash.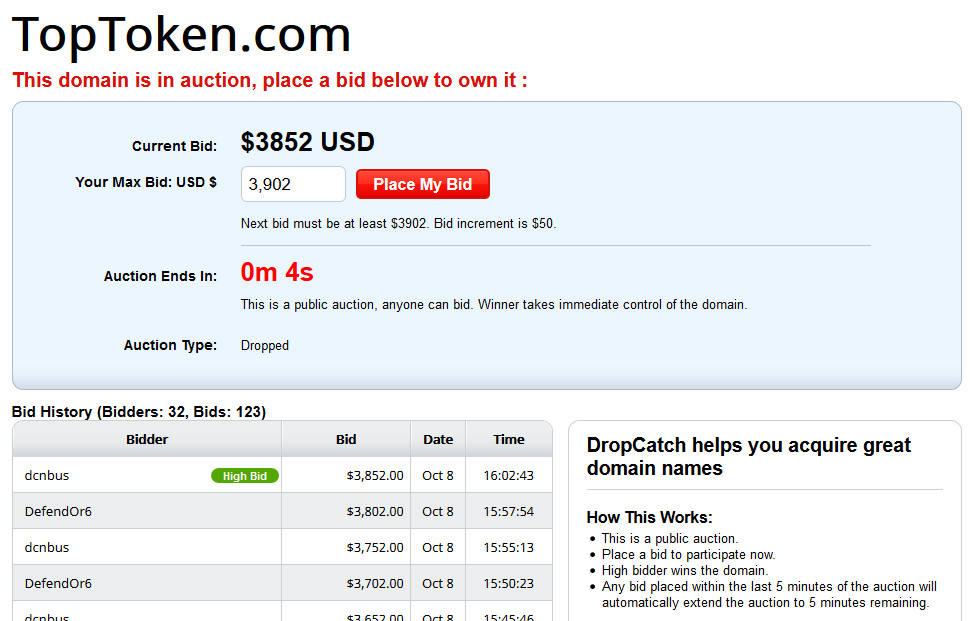 Copyright © 2023 DomainGang.com · All Rights Reserved.