Aquisition .com in auction : Who is going to buy that typo #domain for $X,XXX ?
These days it's imperative to check for domain typos, especially when you are about to spend money on a domain like Aquisition.com.
What is going on here?
Oh, that's right, the proper word is acquisition, and thus, the domain name Acquisition.com is NOT the one being auctioned at DropCatch right now.
Still, the typo domain Aquisition.com has attracted several bidders, 21 to be exact, with 38 bids.
We'd imagine the high bidder to be some poor Chinese domainer believing they're getting a good deal, but instead it's DropCatch user "Takes2ToTango" who is a veteran of auctions.
Does he know something we don't, bidding $1,000 bucks on this typo domain?
The auction ends in a little over 2 days from now.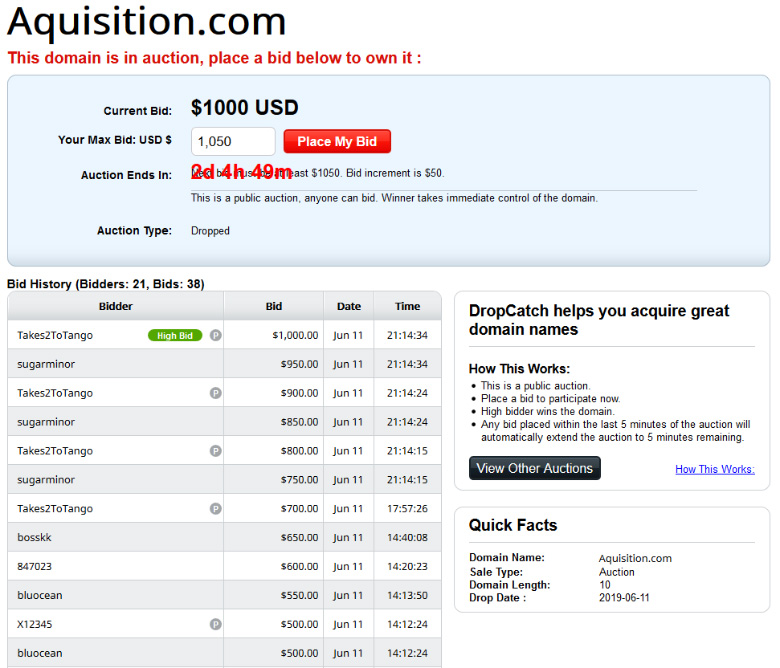 Copyright © 2023 DomainGang.com · All Rights Reserved.
Comments
2 Responses to "Aquisition .com in auction : Who is going to buy that typo #domain for $X,XXX ?"