Failed brands : How much will #Kimono .ORG sell for after Kim Kardashian rebrands?
Kim Kardashian's abandonment of Kimono.com is now among other failed brands.
The fashion and media socialite paid a royal sum for acquiring the Japanese keyword, only to receive a strong backlash from Japan. That's understandable, as the kimono is a cultural garment and its association with ample buttock-shaping underwear is a bit too much for the Japanese.
Even the mayor of Kyoto himself stepped in, imploring Kim Kardashian to reconsider her options!
Although Kim's next choice of a brand name has yet to be disclosed, the domain Kimono.org has entered the auction block at DropCatch. It was first registered in 1998 but dropped several times since.
It's quite strange that the domain dropped at precisely a time that using "kimono" commercially is not a great idea. Still, the auction for Kimono.org has attracted the attention of 17 bidders and 44 bids, with just over a day left until its end. It currently stands at $657 dollars.
Will it end up in the thousands of dollars? We aren't too confident about this one.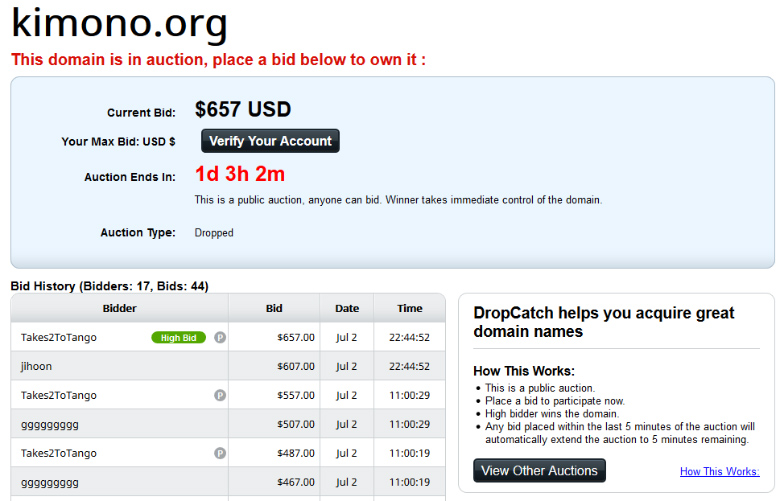 Copyright © 2022 DomainGang.com · All Rights Reserved.
Comments
One Response to "Failed brands : How much will #Kimono .ORG sell for after Kim Kardashian rebrands?"