Well-Bean Coffee interview: Passion for #coffee topped up with the right #domain name!
In 2013, Well-Bean Coffee founder Melissa Gable Brown decided she wanted to help support her parents' mission by exporting a Nicaraguan product, selling it stateside, and then giving back as much as she could to the people there.
Eight years later, proceeds from the sales of Well-Bean Coffee have helped transform the lives of the people in that area.
Says Melissa about her path to success:
"It has been the best and worst thing I've ever done in my life. I spent all my money, went into debt, and worked insane hours. It affected my family and my health, and made me feel like, at times, I was going insane. But even still, there was never any question about quitting."
A cup of coffee drives more than just the palates of millions, perhaps billions of people around the world. Drinking an aromatic cup of coffee stirs up conversations, restores one's balance in a pandemic-striken world, and heals our collective spirit. Coffee-drinking is an inspiring process that unlocks our mind and delivers enjoyment.
Melissa Brown is serious about the coffee business she built from the ground up. Wearing multiple hats and not stopping until her entrepreneurial and humanitarian dream came true, she just so happens to be a dedicated mother, wife, and the sister of domain investor Krista Gable.
Interviewing Melissa Gable Brown about her Well-Bean Coffee is a free, yet priceless lesson in entrepreneurship, branding, and domain names—all mixed together in a perfect balance.
Melissa, share with us some details about you and your driving force in life.
Melissa Gable Brown: I've been a serial entrepreneur from a young age. Being raised with little means, and being the fourth of five kids, if I wanted something, I had to work for it. Although I hated it as a kid, it made me and my siblings what we are today, many of us owning our own businesses.

Through my business ventures I put myself through college—4 colleges to be exact! I finally graduated just shy of 26 with a degree in health promotion and education. I used my degree for a year but corporate America was NOT for me!! I was always meant to be an entrepreneur.

Owning my own business has allowed me to create a life on my schedule. I love traveling and experiencing different languages and cultures, which isn't possible with just 2 weeks vacay a year. It's a first world problem for sure but to be happy I knew I needed to create my own way. In addition to traveling I have been competitive in several types of physical fitness through Ms. Fitness USA, Crossfit competitions, and triathlons.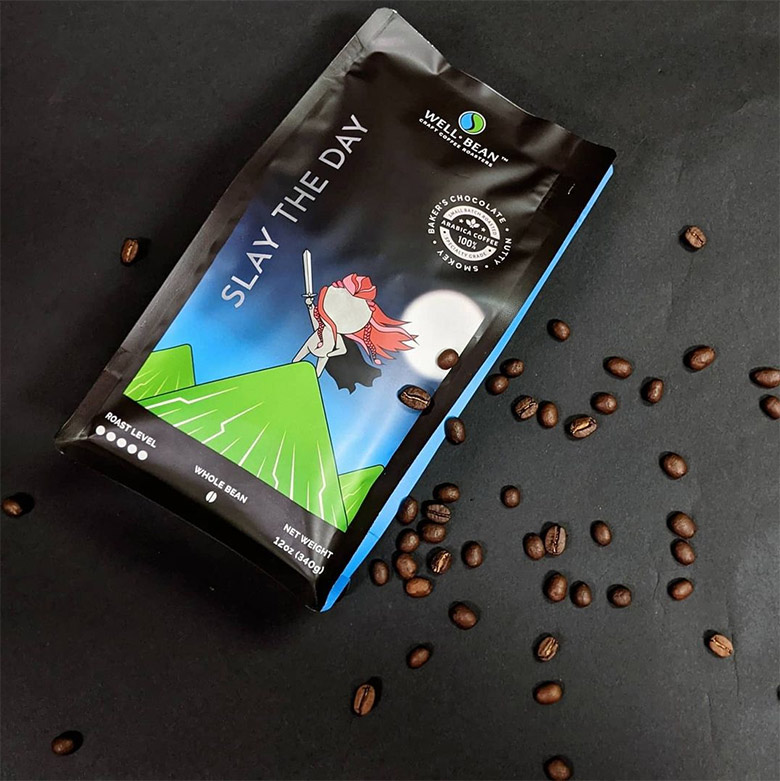 From dreaming to completion: Please share your thought process on forming Well-Bean as a coffee venture.
Melissa Gable Brown: Eight years ago I was hiking through a coffee farm on an excursion and had a crazy idea! I was in Nicaragua visiting my parents who had moved there in 2007 to go full-time in a non-profit they started serving the Nicaraguans devastated by hurricane Mitch.

New Song Mission was doing amazing things through health, wellness & community building initiatives, and I had to somehow get involved. When I walked the farm on our trip in 2012, I saw how hard the farmers worked, and when I tasted how wonderful their coffee was, the light bulb went off. I told my husband I was going to import coffee from that farm and donate a portion of the proceeds to New Song.

I wrote a business plan on a Delta napkin on the flight home and six weeks later Well-Bean Coffee was born. The name was the perfect mix of my passions for wellness, great coffee, & doing good for others.

Since I knew NOTHING about coffee, other than knowing if it tasted good or bad, I needed to start small, so the goal was to do retail in the form of a coffee cart on a college campus for a year and then open up my own drive through coffee shop. I knew I would need to get into wholesale & online sales one day to really make enough money to support the mission, but I had to start somewhere.
Why coffee? What led you to pick this niche market?
Melissa Gable Brown: What really made me successful was the fact I chose a niche market within coffee. After my first couple of years in retail I decided to start my own coffee roastery and selling coffee by the pound instead of by the cup and I established my own "office coffee" route in 2014.

No roasters in the Raleigh / Durham area were focusing on corporate coffee so to my luck and hard work, this pivot turned into a multi-million dollar decision when my coffee routes were acquired by a publicly traded company back in March of 2020—two weeks before offices closed due to Covid. Shew!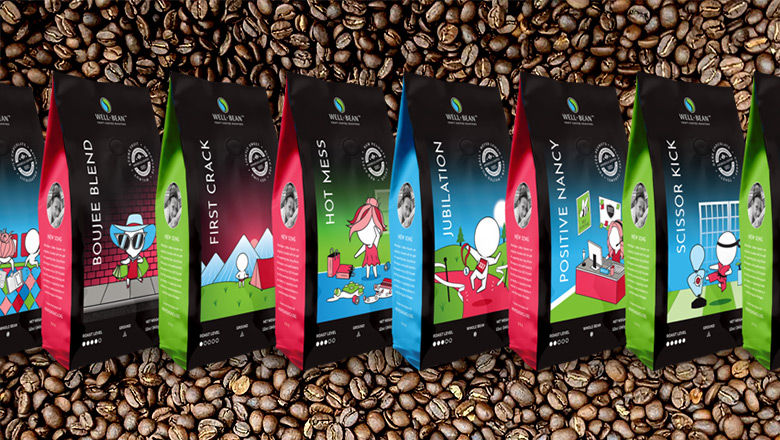 What types of challenges did you face as a woman entrepreneur?
Melissa Gable Brown: I faced more than I expected. My favorite question I have been asked since starting Well-Bean was "Is this your dad's company?" When I said no, their next question was "Your husband's?" Ha! I could have been offended but it made me realize I was an outlier and I LOVED it!

As a young woman entrepreneur, I wasn't taken seriously, even when I had built a multi-million dollar enterprise. No banks would give me money & it was hard as hell to get that first office coffee account, but I always let the challenges drive me. If I could pay for all my own clothes and shoes as an eleven year old, I could figure out how to be successful regardless of my age and gender.
Choosing the right brand and individual coffee bean names—how did you go about it?
Melissa Gable Brown: After the acquisition / asset sale of the coffee routes I wanted to pivot into e-commerce but I knew we had to rebrand. Our coffee was great but our packaging was boring AF. My team and I spent 8.5 months coming up with our new branding & coffee packaging & names, and I am thrilled with how it turned out.

Coffee is a super crowded space online, so the only way I will be successful is if I stand out, and I mean really stand out. This is why we have decided to create "Coffee with Personality" focusing on woman buyers.

Eighty-five percent of consumer products, like coffee, are purchased by women, but coffee is a male-dominated industry, so no one is marketing directly to women, especially women of all colors, shapes, and sizes. We hope to fill the gap & with our eye-catching bags and fun, playful branding.

This is why we named some of our coffees "Hot Mess," "Boujee Blend," "Slay the Day," and "Positive Nancy." So far the rebranding has been a hit and our customers love it!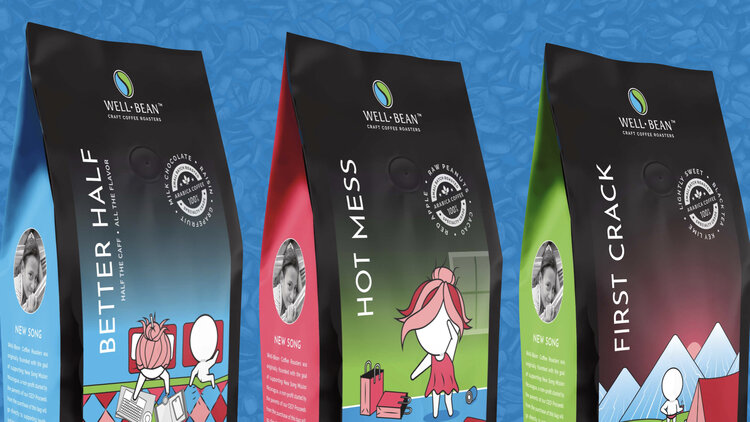 Krista is your sister and very successful with domain names & brands. What was her role in assisting with your success online?
Melissa Gable Brown: I have always looked up to Krista since I was a kid. She is 5 years older than me and I have always looked up to the way she has worked for what she wanted.

Krista had her fair share of hard times and I respected the way she always pulled herself up by her bootstraps and found a way to be successful. Krista had her daughter Kyrsten at 19 and dropped out of college to take care of her. Krista started from the humble place of being a teen mom working for minimum wage as a receptionist for a computer training school. By age 24 Krista had a million dollar company and has been a serial entrepreneur ever since.

Krista is brilliant and sees potential in areas others shrug off. She has never let that or other bumps in the road stop her. In fact, it has driven her more and I respect her so much for modeling that behavior for me. It has helped pave my way of thinking and ultimately my own personal success as a woman entrepreneur.

Specifically, Krista helped me secure my exact match domain. Originally in 2013, I was only able to secure Well-Bean.com and not Wellbean.com. At the time it didn't really matter because I was playing off the word "Well-Being" anyways, so the dash was actually a part of my branding.

It wasn't until about a year ago as I was pivoting to e-commerce that Krista said getting my exact domain was a must. The problem was the domain was stuck in an auction but Krista was able to secure it before anyone else had the chance to. I found out later that there was a company called "Wellbean" out in California that incorporated just a few years ago that makes nutrition bars and they were gunning for the domain.

I ended up fighting the California company for trademark rights but it would have been messier if they had the exact match domain. Krista saved me big time!
Thank you Melissa for sharing with us your impressive, inspiring story! Wishing you the very best in all that you do!
Visit Well-Bean.com to learn more about Melissa Brown's Well-Bean Coffee products.
Her Instagram @wellbeancoffee and Facebook shows more about the coffee flavors, the process, and the company's fun culture.

Copyright © 2023 DomainGang.com · All Rights Reserved.