CQD.com #domain drama continues : Previous owner claims #domain was stolen
Rebecca J. Burns, previous owner of the domain CQD.com and founder of ComQuest Designs, has come forward in social media, claiming that her domain was stolen.
A few days ago, we were informed that CQD.com was taken away from domain investor, James Booth, who said he paid $26,000 dollars to acquire it.
The story so far:
Initially, Network Solutions received a complaint from ComQuest Designs, that the domain CQD.com was stolen, and took possession of it, weeks after James Booth acquired it.
Several days later, the domain was released back to James Booth, who apparently provided evidence of acquiring the domain in an Escrow.com transaction.
Rebecca J. Burns is the owner of ComQuest Designs, a Gainesville, FL firm, and the previous owner of CQD.com, per the WHOIS records provided by DomaintTools.
Ms. Burns stated that she intends to file legal action in order to reclaim her domain, and provided the following information in a report filed yesterday:
On December 27, 2018 I was checking on my domains and noticed Network Solutions was transferring CQD.com from me to a unknown party. I called Network Solutions immediately to ask what was going on / to report it and they put a legal lock on it. Seems a person (unknown to me) sold my CQD.com domain (worth $150k or more) on the escrow.com platform to James Booth, aka Namespro, a domain reseller several weeks prior to me catching this activity. I called Escrow.com and they stated the buyer paid 19k for my domain. The seller was in California. I was told by Legal Lock, Escrow.com and Network Solutions NOT to contact the buyer, that their legal team(s) were investigating and would handle it. […]

Network Solutions PROMISED my domain would not be transferred as I reported the hack, the fraud. However, today (3/7/18) I found out because I was following up with a phone call to Network Solutions, as I had been emailing requests for status but never heard back from them, that their Director of Investigation, Tom Lam at Web.com, in Nova Scotia had concluded his "investigation" into my complaint and found no reason to stop the transfer. WHAT? He never reached out to speak to me. What did his "investigation" entail? Nothing with me, that's for sure! SO my CQD.com is now transferred as of today to a person who purchased stolen personal property so that he can resell it and make a huge profit. I never authorized this transaction. I never signed any paperwork. I never spoke to anyone with my voice at my phone number allowing this!
From a Facebook post, Ms. Burn appears to have listed CQD.com for sale on Afternic on November 30, 2015, seeking $150,000 dollars at a minimum. It is therefore impossible to have been the seller in this latest exchange, and the conclusion should be that the domain was sold to domain investor, James Booth, by a third party without the consent of Ms. Burns.
In an interesting twist, CQD.com first changed hands in mid October 2017, and was moved to the Chinese domain registrar Ename, a popular destination for domains stolen by Chinese hackers.
On October 17, 2017, the domain's WHOIS info was as follows:
Redacted as unrelated.
On October 25, 2017, the domain was moved back to Network Solutions, and the WHOIS information was restored to that of its previous owner, ComQuest Designs. We aren't aware of any actions that might have triggered this domain ownership reversal, but usually such swift registrar changes occur when a domain is reported as stolen.
We will update this post once there is new information about this matter.
Update: The following photo was provided by Quanming "Mike" Han, showing the person he negotiated with via Escrow.com in mid-October, used the name "Junior" with an email "jamunkel@hotmail.com."
Mr. Han canceled that escrow, when he became suspicious of the authority of the seller to sell CQD.com.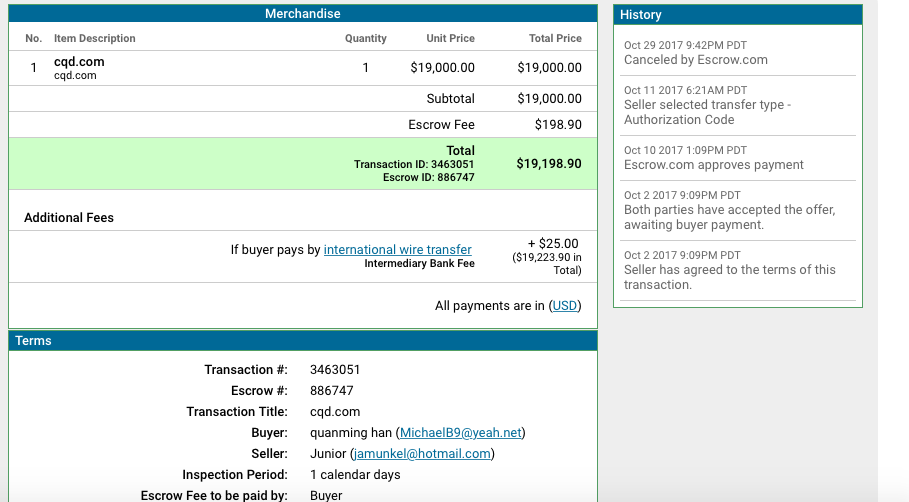 Copyright © 2022 DomainGang.com · All Rights Reserved.
Comments
20 Responses to "CQD.com #domain drama continues : Previous owner claims #domain was stolen"